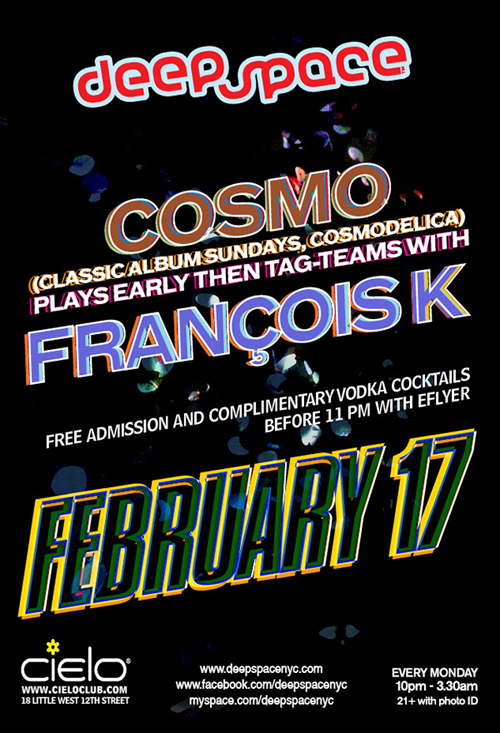 February 17
DJ COSMO (Classic Album Sundays)
joins François K.
Free Entry and Vodka Cocktails before 11pm with this eflyer
Colleen 'Cosmo' Murphy: Adventures in sound Cosmo's 20-year-career has left no musical rock unturned. Few can say they've been tutored by David Mancuso and François K, run a record label, toured the planet's best clubs, assembled many an esteemed dance compilation, written for music magazines, made radio shows for millions of listeners and created an events brand, Classic Album Sundays, that has been franchised all over the world.
An unsung hero of New York's 90s disco explosion, Boston-born Colleen was to that scene what Mary Anne Hobbs is to the UK's electronic underground. Her radio shows, Soul School and Club 89 on WNYU, were the only ones to truly explore the crossover between disco and house, old and new, and to reflect the city's fizzing dance music culture. Colleen has produced original music with dance music veterans like X-Press 2's Ashley Beedle (as Darkstarr Diskotek), former Captain Beefheart guitarist Gary Lucas and remixed Bat For Lashes, Sinead O'Connor and Planningtorock.
Cosmo was Mancuso's protégé, one of the only DJs to play with him at the Loft and, eventually, filling in for him and hosting The Loft by herself. The few other DJs to enjoy such a privilege had been François K and Larry Levan. "It was crazy," she says. "I'd finish my job at Joe Claussell's record store, Dance Tracks, lock up, get my records, play for 12 hours and then open up at the store at 1pm. Now my minimum set is five hours – I can't even get into it in two." From The Loft, Colleen toured extensively in Europe and Asia, as well as holding down guest slots at Body & Soul.
In the past two years, however, Colleen has found a new groove as the driving force behind Classic Album Sundays. The bi-monthly record club gives music fans an opportunity to enjoy iconic rock, pop and dance albums played in full through some of the world's best hi-fis. It's a punk rock reaction against the diminished quality of music wreaked by the download age, but it's also about championing the real joy behind music, the ethos that has underlined much of Colleen's career: the art of listening.
classicalbumsundays.com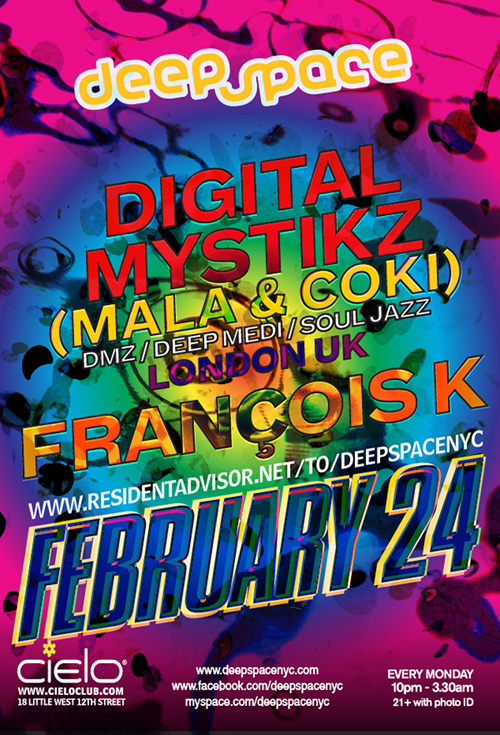 February 24
Digital Mystikz
(Mala + Coki)
DMZ / DEEP MEDi / Soul Jazz
London UK
+
François K.
Advance tix at :
http://www.residentadvisor.net/event.aspx?556416
Digital Mystikz hasn't been to NYC since the iconic days of Dubwar. On a rare US tour, and an exclusive NYC appearance at Deep Space, Digital Mystikz is apt to show us how dubstep is done when it's at its most supreme. Deep Space is truly honored to welcome the mastermind duo of Mala & Coki to our intimate bass community and to our beloved Funktion One sound system.
Whether operating solo or as one half of legendary outfit Digital Mystikz, the man helped put dubstep on the musical map in the mid-'00s, not only as a producer and DJ, but also as the co-founder of the genre-defining DMZ label and club night with Coki and Loefah. Along the way, he also found the time to start up his own Deep Medi imprint. His work has undeniably influenced an entire generation of bass-loving artists. These days, when he's not travelling the globe and reminding people of the power of sub-bass, he's still turning out new music.
Coki is one part of Digital Mystikz, a dubstep production duo '96 – the other half being Mala '96 from the South London suburb of Norwood. Coki's renowned for his backseat low profile persona and his wielding of massive bassiness. Along with Loefah, Coki and Mala operate the DMZ record label and host the influential bimonthly nightclub DMZ, held at the Mass club complex in Brixton, London. Their song "Anti War Dub" appeared in the 2006 film "Children of Men," although it wasn't included in the soundtrack.
Deep Space is an adventure into future dub, spacey vibes and abstract grooves featuring resident dj François K.
live on the mixingboard every Monday at Cielo.
no dress code - just an open mind
Cielo, 18 Little W. 12th Street, NYC
between Washington St. and 9th Ave
A C E 1 9 2 or 3 at 14th St; L at 8th Ave
21+ with photo ID
Want eflyers for free admission, exclusive announcements & deep discounts?
Join Deep Space SELECTOR (our weekly newsletter) at:
www.deepspacenyc.com
www.facebook.com/deepspacenyc
www.myspace.com/deepspacenyc
For dub-inspired music from Deep Space Media, please visit:
www.wavemusic.com/wave-label/9