Friday June 7th - #MarqueeFridays
NICK WARREN [Hope Recordings]
at Marquee New York

For our first Friday night in June, we're excited to bring in one of the true legends of the international underground as the UK's pioneer NICK WARREN debuts at Marquee.
From his classic Global Underground mixes, to his work as Way Out West, to his unique fusion of deep, emotive big room house, Nick Warren is one of the world's most accomplished DJs and producers - and one of our all-time favorites. Expect a true dancefloor journey from this maestro on Marquee's stunning Funktion One system.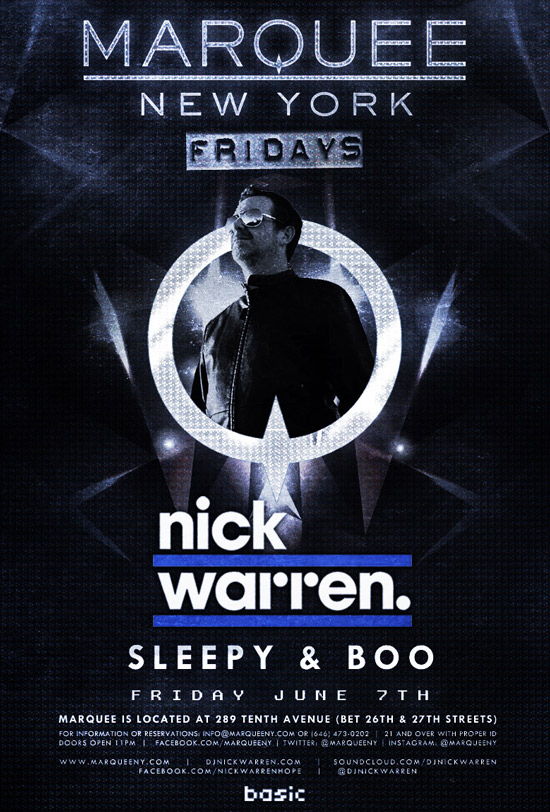 with music by:
NICK WARREN
djnickwarren.com
with more TBA
Tickets are limited and highly recommended - get yours at Resident Advisor - http://www.residentadvisor.net/event.aspx?481439
To RSVP for our guestlist
- email
marquee@basicnyc.com
For Marquee table reservations
- email
marquee@basicnyc.com
When:
Friday June 7th (10pm - late)
Where:
Marquee New York (289 10th Ave. btwn. 26th + 27th)
Price:
marquee@basicnyc.com
for our list
http://www.basicnyc.com/
http://www.marqueeny.com/
http://www.djnickwarren.com/
https://www.facebook.com/nickwarrenhope
For tickets to all
Marquee Fridays
-
http://www.residentadvisor.net/promoter.aspx?id=33876