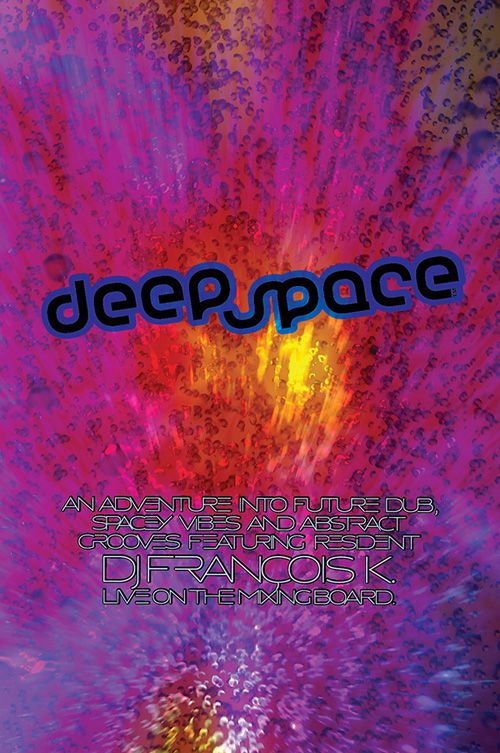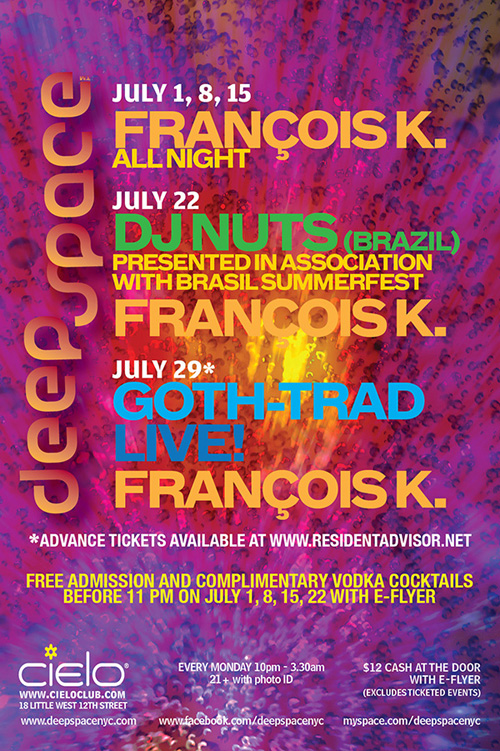 François K. is revered as the Co-Creator of New York City's legendary dance party Body&SOUL. He tours worldwide for not only his soulful house dj sets, but also for his techno and dub mixes. Over the years, he performed regularly at Studio 54, Paradise Garage, The Loft, Ministry of Sound, Sound Factory Bar, Twilo, Roxy and Club Yellow in Japan, to name a few. In great demand, François has gone into the studio to produce/remix recordings by Depeche Mode, Kraftwerk, Jimmy Cliff, Underworld, Eurythmics, Bunny Wailer, U2, The Smiths, Ashford & Simpson with Maya Angelou, Dido, Finley Quaye, Cure, Diana Ross, Mick Jagger, Fishbone, D Train, Erasure, Yazoo, Talvin Singh, Black Uhuru, Thomas Dolby and Jah Wobble.
In 2005, François was inducted into the Dance Music Hall of Fame.
DEEP SPACE:
Deep Space, is an adventure into future dub, spacey vibes, and abstract grooves featuring resident DJ François K. live on the mixing board with special guests.
Since the party's launch in 2003, Deep Space has featured a who's who of well known and then emerging artists from around the world representing a stunning array of musical styles that Deep Space is known for integrating into its open minded aesthetic. While the mission of Deep Space remains committed to sharing a love of dub, a vast, under-appreciated musical direction, the party has invited a great range of guest artists to share their creative dub mixing approaches to all things spacey, psychedelic and mind-bending.
July 1, 8, 15
Francois K. all night
July 22
DJ Nuts (Brazil)
presented in association with Brasil Summerfest
Francois K.
July 29
GOTH-TRAD LIVE!
Francois K.
Advance tickets available at
www.residentadvisor.net
Free admission and complimentary vodka cocktails
before 11pm on July 1, 8, 15, 22
Admission is $12 cash at the door with eflyer (excludes ticketed events)
Deep Space is an adventure into future dub, spacey vibes,
and abstract grooves featuring resident dj François K.
live on the mixingboard every Monday at Cielo.
no dress code - just an open mind
Cielo, 18 Little W. 12th Street, NYC
between Washington St. and 9th Ave
A C E 1 9 2 or 3 at 14th St; L at 8th Ave
21+ with photo ID
Want eflyers for free admission, exclusive announcements & deep discounts?
Join Deep Space SELECTOR (our weekly newsletter) at:
www.deepspacenyc.com
www.facebook.com/deepspacenyc
www.myspace.com/deepspacenyc
For dub-inspired music from Deep Space Media, please visit:
www.wavemusic.com/wave-label/9