Friday May 24th - #MarqueeFridays
BLOND:ISH [Get Physical]
with Nadav Vee
at Marquee New York

We're welcoming Montreal's deep house phenoms BLOND:ISH to the decks at Marquee on Friday May 24th, as #MarqueeFridays continues with another stunning night of cutting-edge music.
With releases and remixes on a huge range of top labels, Blond:ish are blowing up big time; their sounds are the perfect fit for the Marquee Funktion One sound system. Joining them will be NYC's own Nadav Vee, a regular DJ at some of the city's top nightspots, for this special Memorial Day Friday of sophisticated undeground sounds.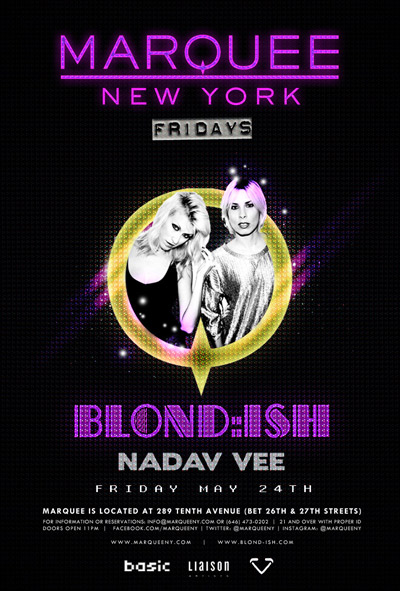 with music by:
BLOND:ISH
Get Physical | blond-ish.com
NADAV VEE
djnadav.com
Tickets are limited and highly recommended - get yours at Resident Advisor - http://www.residentadvisor.net/event.aspx?473936
To RSVP for our guestlist
- email
marquee@basicnyc.com
For Marquee table reservations
- email
marquee@basicnyc.com
When:
Friday May 31st (10pm - late)
Where:
Marquee New York (289 10th Ave. btwn. 26th + 27th)
Price:
marquee@basicnyc.com
for our list
http://www.basicnyc.com/
http://www.marqueeny.com/
http://www.blond-ish.com/
https://www.facebook.com/Blondish
http://www.djnadav.com/
https://www.facebook.com/NadavVee
http://www.facebook.com/sleepyandboo
For tickets to all
Marquee Fridays
-
http://www.residentadvisor.net/promoter.aspx?id=33876