Benny Soto's Bday Bash ~ 718 Sessions w/ Danny Krivit & Hex Hector 06/09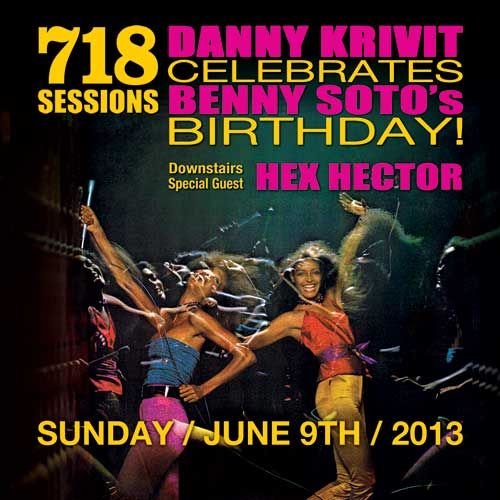 Sunday, June 9th
Benny Soto Presents..
718 SESSIONS!
Celebrating Benny Soto's Birthday : )
On the turntables the entire night...
DANNY KRIVIT
With special added treat..the Return of DJ BENNY SOTO : )
And on the Lower Level Very Special Guest
Hex Hector!
Lights by ARIEL
Doors 6:00pm
Still $5 Bucks for the first 100 people before 7pm!
$12 Reduced Admission with flyer or facebook rsvp
$20 Without
Also, at this party..TICKETS will be AVAILABLE for the Annual 718 Sessions Boat Party! Music by...DANNY KRIVIT!
No on-line fees or store charges applied if you buy tickets at this weeks party only. This event sells out every year. Don't miss the boat!
See James at the t-shirt table for tickets. Tickets are $30 in advance.
Santos Party House
96 Lafayette St.
New York City
www.santospartyhouse.com
Stay Connected
For more info contact:
bennysoto@gmail.com
718 Sessions on Facebook
www.facebook.com/718SessionsNYC
Danny Krivit Official Site
www.dannykrivit.net
Danny Krivit on Facebook
www.facebook.com/dannykrivit