Friday May 3rd - #MarqueeFridays
STEVE LAWLER (VIVa MUSiC)
with Sleepy & Boo
Marquee New York

We're really excited to welcome the VIVa MUSiC bossman STEVE LAWLER to Marquee New York!
One of our favorite all-time DJs and producers, Steve Lawler has a long and loving history with NYC, and we can't wait to hear him rock Marquee's crystal clear Funktion One sound system with his deep and tech-flavored underground goroves. Joining him will be
Basic's SLEEPY & BOO
, the Marquee residents and musical curators of #MarqueeFridays, who will be getting the party going with their own set of straight dancefloor hypnosis. Don't miss this epic night - get your tickets now at RA.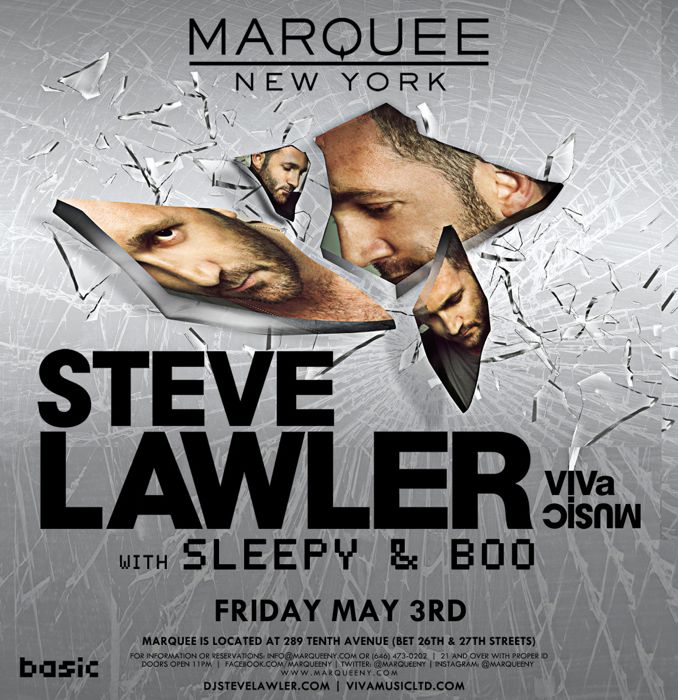 with music by:
STEVE LAWLER
VIVa MUSiC | djstevelawler.com
along with
SLEEPY & BOO
Basic | basicnyc.com
Tickets are limited and highly recommended - get yours at Resident Advisor - http://www.residentadvisor.net/event.aspx?462871
To RSVP for our guestlist
- email
marquee@basicnyc.com
For Marquee table reservations
- email
marquee@basicnyc.com
When:
Friday May 3rd (10pm - late)
Where:
Marquee New York (289 10th Ave. btwn. 26th + 27th)
Price:
marquee@basicnyc.com
for our list
http://www.basicnyc.com/
http://www.marqueeny.com/
http://www.djstevelawler.com/
http://www.vivamusicltd.com/
http://www.facebook.com/sleepyandboo
http://www.facebook.com/DJSteveLawlerOfficial
For tickets to all
Marquee Fridays
-
http://www.residentadvisor.net/promoter.aspx?id=33876